Seniors Driving Improvement
If you are healthy but somehow seem to be slow to react while driving
you have had a change in condition (temporary or permanent), and you worry this might affect your driving,
you know someone who might be having difficulties but not sure why,
Most importantly, if you think your older parents are no longer safe for driving, invite them Come in for an evaluation.
We help you CONTINUE driving SAFELY:
Recommend car modifications: Many times, we can point out where to make easy changes in your car, where to add some cushions, for example.
Instruct exercises, stretching while driving (while stopping at lights).
Many times, we design ways to improve on your reaction time, flexibility, strength, endurance on land, which carry over to driving (and other life tasks).
We challenge you to excellent work outs that will keep your mind fresh, your reflexes quick, and your body strong.
Teach you calming techniques, remind you of new perils on the road, such as how to look out for unsafe drivers, keeping safe distance, etc.
Guide you while you drive to make sure that you feel comfortable, safe, and practice new techniques
We can also recommend adaptive equipment, electronics, assistive technologies that you might benefit, work with you to choose devices and mobility aids.
You will feel like a new person and be more safe and confident on the road.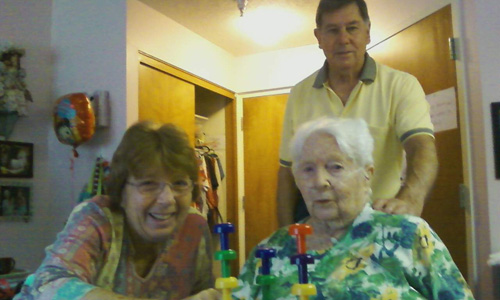 References:
Screening tests:
Macular degeneration
Contrast Sensitivity Test
Conditions:
Driving with Cataracts
Driving with Glaucoma
Driving with Macular Degeneration
Convert the following into the same formats as above
Driving and ADHD [ pdf ]
Driving and Aging [ pdf ]
Driving and Alzheimer's [ pdf ]
Driving and Arthritis [ pdf ]
Driving and Asperger/Autism [ pdf ]
Driving and Cerebral Palsy [ pdf ]
Driving and Vision [ pdf ]

Driving and Limb Loss [ pdf ]
Driving and MS [ pdf ]
Driving & Non-Verbal Learning Disability [ pdf ]
Driving and Spinal Cord Injury [ pdf ]
Driving and Spina Bifida [ pdf ]
Driving and Stroke [ pdf ]
Driving and TBI [ pdf ]

Driving and Community Mobility:
There will be time when safety is in question and accommodations must be made. Below are resources to discuss with family and information about community transportation programs:
Florida Safe Mobility for Seniors
We need to Talk… About Driving
Senior Self Checklist
National 2-1-1 Information line
Florida 2-1-1 Information line
Elder Care Locator – Community Services for Seniors
Getting a ride:
Transportation options: Disability.org
Transportation Options for Older Adults- NADTC (National Aging Disability and Transportation Center)
Where to get Help Finding a Ride: Disability.gov
Share a Ride map locations in US (Florida: Sarasota/ Suncoast and Orlando Areas) – ITN America
Living Life's 5R's:
Relaxation and Reflection
Reduces Road Rage:
Learn how to use relaxation techniques and positive imagery, tranquil attitudes, to enhance driving experiences and safety