ANSWERS to Driving Requirements and Equipment Recommendations
Good Day!
There are many types of patient situations and many possible adaptations, so Driving Evaluation and Equipment Recommendation for each person is very individualized and can be very complex. There are also governmental procedures to keep in mind.
Please see below for answers to some frequently asked questions:
We do DRIVING EVALUATION, which include a CLINICAL and a BEHIND THE WHEEL portion.
The

Clinical test

includes physical assessment, strength, range of motion, gross and fine motor coordination, reflexes, cognition including mental status, memory, etc.
The

Behind the Wheel

portion happens after the clinical test, and can only happen if you did sufficiently well on the clinical tests and you might have some potential to drive.
You MUST have a Driver's License, a Learner's Permit, or a Temporary license allowing you to test drive.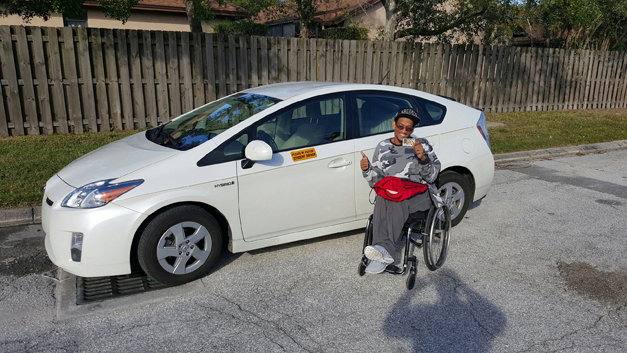 Congrats Emori- Persistence pays off!!! :-)
We help you PRACTICE DRIVING and HELP WITH ROAD RULES for you to get your Driver's License (we do not guarantee that you will pass- that is up to you!)
We can help you learn road rules before and during driving.
As we drive, we help you learn the rules of driving, identify potential hazards, help you interpret signs, understand and learn to react properly, how to stay calm, what to do during emergencies, etc.
See more info: http://www.graceadaptivedriving.com/road_practice.php
Florida Department of Motor Vehicles (DMV) and DMV Medical Review Board procedures:
Scenario when you do NOT have a license:
If you are a

brand new "green" driver

, you need to go get your Learner's Permit: You must pass the DMV written tests and vision test, just like a typical teenager or first time driver. Then we can do a Driving Evaluation and let you practice driving with or without adaptive device.
If you have waited too long and your

Learner's Permit have lapsed

, then you need to get an extension or a new Learner's Permit from the DMV.
If you have a disability that the DMV questions whether to give you a Learner's Permit, and they would NOT give you a permit, you will need to contact the DMV Medical Review Board and ask them for permission. They will send you a letter to take to the DMV, to get a temporary permit to get a Driving Evaluation.
If you had a

life or health change, or someone reported

your questionable ability to drive to the Medical Board, then the Medical Board would usually issue a letter, stating that you must go get a Driving Evaluation, to determine continue ability to drive.
If your license was

REVOKED by the DMV Medical Board

, you must contact the Medical Board to get an authorization letter sent to you, then you would need go to the local DMV to obtain a temporary permit to test drive. The temp permit is usually

very strict

, within 1-2 days exactly, such as Oct 3-4.
This is why patients who do not have a permit and want to test drive must make an appointment with us FIRST, then they call the Medical Board, then go to the DMV so the DMV can issue this temporary permit for the

specific date

of the appointment.
Scenario when you have an ACTIVE Driver's License or Learner's Permit:
If you had a life or health change, it's advisable to ask your physician for a prescription to get a Driving Test. This is good because that means your physician supports your possible return to driving.
If you had a vision change from a health problem, eye problem, or head injury, for example, you need to get a prescription from your Ophthalmologist or Optometrist, or they should fill out a form REPORT OF EYE EXAM (see link below) to certify that your vision is sufficient to drive.
Schedule an appointment with us for a DRIVING TEST.
Links to DMV Medical Review Board
Report of Eye Exam:
https://www.flhsmv.gov/pdf/forms/72010.pdf
See more information about Medical and Vision Problems at the DMV site:
https://www.flhsmv.gov/driver-licenses-id-cards/general-information/medical-visual-problems/
To report unsafe drivers, use this link:
https://www.flhsmv.gov/pdf/forms/72190.pdf
Prepare for your DRIVING TEST:
Fill out the NEW PATIENT FORM:
https://gingerfitness.com/patient_info.php?mnl=1
What to bring on the day of your Driving Evaluation Appointment:
Your temporary permit or your active Driver's license
Prescription for DRIVING EVALUATION from your physician
Medical records showing your recent health status in the past year, including medical treatment, medications, X rays, etc.
Vision test from your eye doctor if applicable
Schedule at a time when you won't be tired. Get plenty of rest before so you can be at your best level of alertness and performance.
Bring your friends or family if needed (we only allow 1-2 other persons in the evaluation if they are respectful and observe quietly to minimize disruptions).
What to expect at the Driving Evaluation:
Plan on spending about 2-3 hours at the evaluation. Wear comfortable clothes and shoes for driving. Bring water or food if you need to eat or drink before your driving session.
You can use the bathroom if needed during the evaluation.
The Driving Evaluators are very nice and calm, and you should not have more anxiety as a result of talking to him/her.
The Evaluation will demonstrate and help you become more aware of your driving situation or ability. During and after the evaluation, things will be explained and demonstrated to you. Ask questions so that you understand and feel comfortable with the evaluator and with the results.
Scenarios after the DRIVING EVALUATION:
You passed- Considered FIT TO DRIVE

- we recommend that you would be allowed to drive without restrictions, no further practice needed.
You have

good potential, and do not require adaptation, but you need…

You would usually require some type of practice with us for 1-50+ hours depending on the situation.
We might require that you continue to practice with our Evaluator Vehicle for 1 or more hours, for safety because we have Evaluator Brakes,
Then we can transition to your own vehicle, so that we can see if you would indeed be Fit to Drive in your vehicle.

…to MODIFY your vehicle

including hand/foot controls, mirrors, add visual or sound aids, etc.

You would usually require some type of practice with us for 1-50+ hours depending on the situation.
We might require that you continue to practice with our Evaluator Vehicle for 1 or more hours, so that we can see if you can indeed be safe to adapt a device in your vehicle.
If you can drive well in our vehicle, then we can proceed to prescribe adaptation for your vehicle.
We must evaluate you for safe driving after the vehicles were modified.
If you do well, then we recommend you to be FIT TO DRIVE WITH RESTRICTIONS

If you cannot drive well even with practice or after adaptive devices are installed, then we cannot pass you.

You might need to return for another Evaluation if there are life changes, or after 1 year, if follow up is needed.

If you

do not pass the clinical and/ or behind the wheel, then we could recommend that you

are currently NOT FIT TO DRIVE, but you could return for follow up in 6-12 months if applicable.
If we feel that your

situation is not reversible

, example mental deterioration or poor driving performance or judgment, etc, we will NOT recommend for you to return for a retest.
We send all reports of NOT FIT TO DRIVE or FOLLOW UP REQUIRED to the Medical Review Board. They have the final say in determining your licensing status.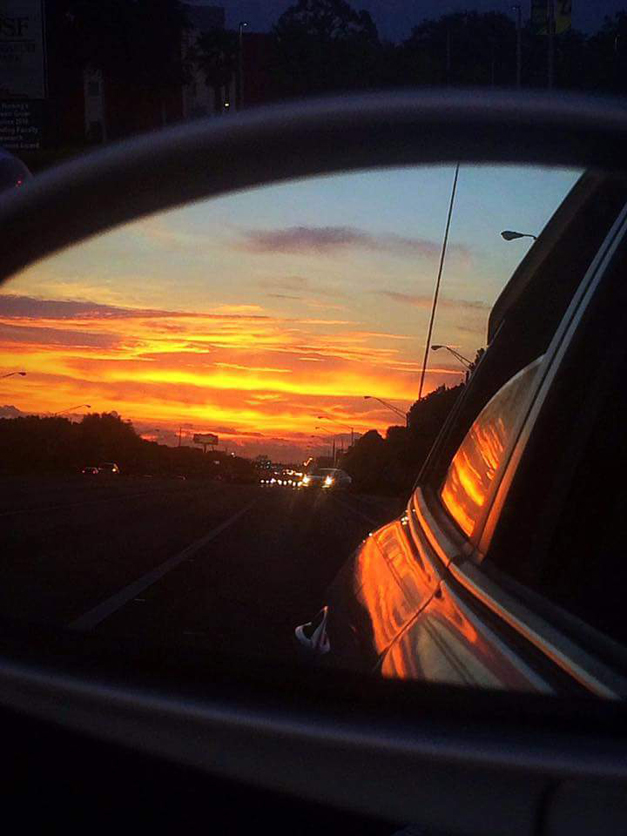 Courtesy of Francie Erickson, photographer of beautiful things 2016-09
Some Terminologies Related to Driving:
Low vision Driver: any drivers who have some type of vision disorders would may be able to drive but require modification with visual or auditory aids
Older Drivers: just because one is older doesn't mean one can no longer drive. There are options for mirrors, seat ergonomics, etc, that would help you be able to continue driving. The main impediments for older drivers (and other drivers too), are degenerative joint problems restricting their range of motion, muscle weakness, chronic pain, mental deterioration, and poor seating systems.
Link to Senior Driver page: http://www.graceadaptivedriving.com/senior_drivers.php
Link to Ergonomics page: http://www.graceadaptivedriving.com/ergonomics.php
Dementia: Anyone who has onset of dementia or other mental deterioration will need a Driving Evaluation, which would focus on more cognitive issues and judgment, to see if the person can continue to drive.
Cognitive Drivers: those who have altered cognition, mild mental retardation, Autism, ADHD, attention deficit disorders, etc, may be able to drive with exercises and practice in behavior modification, attention focus, calming training.
Adaptive Devices and Types of Driving Controls:
Primary control: Steering and brake/accelerator
Secondary controls: all other functions in the car such as windshield wipers, turn signals, lights, horn, radio, etc.
Low Tech:
This means that all vehicle adaptations are mechanical. There is no additional electronic power to help.
So if you have a disability but you can still walk, transfer yourself, you have strong upper body and upper trunk, then most likely you can use LOW tech:
L/R hand controls
L/R hand steering
Left foot pedal acceleration
Steering wheel extensions, etc
Foot pedal extensions
Accessories to help use secondary controls
Mid and High Tech:
High tech is when the entire system is electronically controlled.
If you are wheelchair bound, you cannot transfer yourself in/out of the car, you have weakness in your upper body as well, you would need Mid to High Tech.
Mid Tech is not clearly defined, because it is a combination of some low tech and some high tech equipment. Some patients who are strong in their arms but weak in their wrists and hands would probably use Mid Tech.
High Tech would be for someone who cannot lift their arms. They might use a joystick or modified steering (reduced effort, horizontal steering, and other driving systems).
Patients who have lost both use of their arms might be able to drive using one or 2 feet. This would require revamping of the driving set up, so it would also be Mid/High Tech levels.
The more technical the more complex we have to figure out with you, including use of Voice activated or Sound activated systems, to start the car and to drive it using primary and secondary controls.
We will also discuss and

recommend types of Mobility devices

(power vs scooters vs manual chairs, whether you should drive directly from your wheelchair, use a transfer chair, lifts, Vans vs SUV/ Trucks/ sedans, etc.
We can discuss any

recreational vehicles

that you would like to adapt as well.
We will discuss and try various options with you to determine the best driving system for you.
Link to Adaptive Vehicles Page with more explanations:
http://www.graceadaptivedriving.com/adaptive_vehicles.php
If you have other questions, please call our office at 813-631-9700.
We'll be happy to help- Look forward to seeing you!!

Living Life's 5R's:
Relaxation and Reflection
Reduces Road Rage:
Learn how to use relaxation techniques and positive imagery, tranquil attitudes, to enhance driving experiences and safety